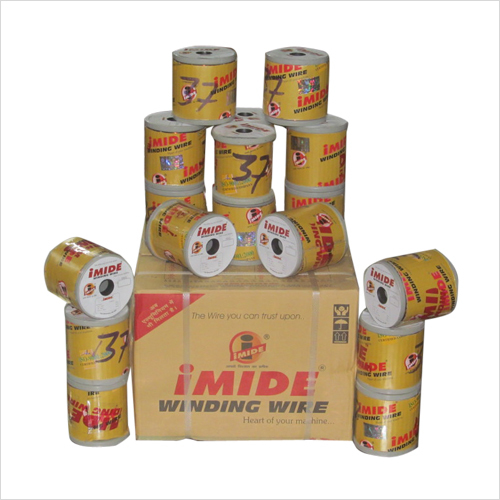 Product Description
It is a wire coated with a thin layer of insulation. We are glad to present ourselves as one of the leading manufacturers and suppliers of Super Enamelled Aluminium Winding Wire. Aluminum is known as an excellent electrical conductor after copper. We use best quality aluminum, sourced from trusted vendors to manufacture this wire. It is suitable to replace the copper enameled wires with proper design modifications. This wire finds applications in electronic circuits, television degaussing coils, washing machine motors, fans, and AC compressors. Super Enamelled Aluminium Winding Wire has a smooth surface and a very good elongation.
Further Details:
Aluminium competes closely with copper formost industrial and household applications. With remarkable electricalproperties and advancement in manufacturing process it allows to capitalise on the significantdifference in the price of both the metals. With all these bundled benefits, IMIDE's enamelled aluminium wire can besuccessfully used to replace the copper enamelled wires, where needed.
We make it available in different sizes, typesand grades of enamels to ensure best results for all special fields ofapplication.
(Please make sure all the categories arecovered in one or the other product listing)
Categories:
1.Polyester Enameled Aluminum Wire
2. 3. 4. 5. Winding Wires
Diameter: 0.081 mm to 4.064 mm
Conductor Type: Solid
Conductor Material : Aluminium
Packaging Type: Cylindrical and Taper spoolsin multi ply boxes
Place of Origin: Delhi
Coating: Modified Polyester
Elongation : 15-48% (gauge dependent)
Material grade: Pure electrical transmissiongrade
Insulation material : Enamelled
Condition : New
Standard : above ISI specifications
Working temperature: 155 / 180 / 200 / 220
Colour: Golden - reddish brown
Temperature class : F / H / Dual Coats
Is it rust proof : RUST POOF
Aluminium Volume %: 99.99
Packaging :Automised machine Packaging
Is it CEcertified: CE certified
Alloy Or Not: NOT
Shape: ROUND WIRE
Surface: FREE FROM SPOTS
DEFECT RATE: 0.1%
Tolerance: 0.004mm
Contact Us
Office No.-G/950, DSIIDC Industrial Area, Narela, Bhorgarh, Delhi, Delhi, 110040, India
Phone :+918068092520